Hokkaido Expressway Pass
[Customer Notice] We stopped accepting Expressway Pass applications!
We stop new reservation for Expressway Pass to prevent spread of Coronavirus infection. We apologize for the inconvenience, and appreciate for your understanding.

With the Hokkaido Expressway Pass, enjoy unlimited use of Hokkaido's expressways, for one fixed price!
Be sure to rent the ETC card together with your vehicle.
ETC (Electronic Toll Collection) is a system that enables the payment of expressway tolls without having to stop, by means of wireless communication between an antenna located at the toll booth, and the ETC card (IC card) inserted into the card holder in your vehicle.
Important Notes:

Hokkaido Expressway Pass may only be used by visitors to Japan who have foreign nationality.

In order to use the pass, you must present documentation such as a non-Japanese passport.
Advantages
Fixed price for peace of mind!

Peace of mind, as no matter how far you travel by expressway in Hokkaido, the price is fixed.

No need to Speak or Read Japanese!

When you use ETC, there's no need to come to a complete stop at toll booths. And you need not worry about communication in Japanese.

Save more time!

Hokkaido is huge! It's about 300 km from New Chitose Airport to Hakodate, and about 450 km to Shiretoko. By using the expressways, travelling times can be shortened.!
Eligibility
The service is only available to foreign visitors to Japan (those with non-Japanese passports), although Japanese nationals with permanent overseas residency status also qualify.
Price chart

The rental charges for the vehicle and ETC card are not included.
The period of use cannot be extended midway.
Only valid for vehicles classified as "ordinary passenger cars" according to expressway policies.
For example ? Normal expressway toll (Ordinary Passenger Car)
New Chitose Airport → Sapporo Station (via Sapporo Kita IC)
One Way \1,430 (46.9 km)
New Chitose Airport → Otaru
One Way \2,250 (77.6 km)
New Chitose Airport → Asahikawa (via Asahikawa Takasu IC)
One Way \4,810 (164.6 km)
New Chitose Airport → Hakodate (via Onuma Koen IC)
One Way \5,530 (223.1 km)
Normal tolls on expressways in Hokkaido are calculated at approximately 25 yen per kilometer, plus a 150 yen terminal charge (may differ on sections in central Sapporo and other areas).
Applicable Sections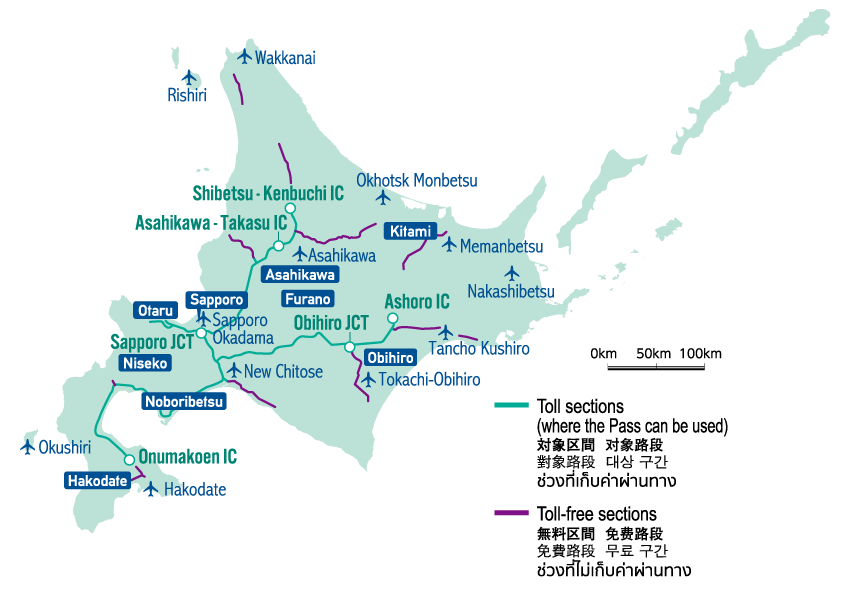 How to use

Please cooperate by answering a questionnaire after using the Pass.
Companies offering the service
For a list of participating offices, please click here.
Terms of Use
Hokkaido Expressway Pass Terms of Use (61KB)
ETC System Detailed Rules of Use
Helpful Information

Hokkaido Sightseeing Route Examples (2.1 MB)
The Must-Have Handbook for Driving in Hokkaido (Ministry of Land, Infrastructure, Transport and Tourism Hokkaido Regional Development Bureau)
Recommended
content for you
Expressway toll/
route search
Search by
service area